авторы
papan, Абульфат АДХЕМ-ЗАДЕ , Александр КАССИС, Александр ЧЕЧЕТТ, Алексей БАТАШЕВ , Алесь ОСТРОВЦОВ, Анастасия КОСТЮКОВИЧ, Анатолий МЕЛЬГУЙ, Андрей ЕВДОКИМОВ , Андрей КАНУНОВ , Андрей ПЕЧКАРЕВ, Анна АЛАДОВА, Анна РЖЕВИНА, Армен МАНУКЯН, Арнольд ВОЛЫНЦЕВ, Ая ГЛАДКИХ, Беатрис Саманта РИЧАРДСОН , Валерий КОПМАН, Виктор РАДЗИЕВСКИЙ - мл., Владимир ФЕЙЕРТАГ, Геннадий САХАРОВ, Георг ИСКЕНДЕР, Денис КОВАЛЕВ, Дмитрий ПОДБЕРЕЗСКИЙ., Дмитрий УХОВ, Ева СИМОНТАККИ, Евгений ДОЛГИХ, Кирилл МОШКОВ , Ксения ГОЛОВАНОВА, Леонид АУСКЕРН, Леонид ПЕРЕВЕРЗЕВ , Людмила МАЗУР, Максим ИВАЩЕНКО, Максим КОЗЛОВ, Мария ЗОТОВА, Михаил МИТРОПОЛЬСКИЙ, Михаил ТРОФИМОВ, Наталья ПЛЮСНИНА, Наталья СИДЕЛЬНИКОВА , Олег МОЛОКОЕДОВ, Олег САМОРОДНИЙ, Ольга КИРЮШКИНА, Ольга КОРЖОВА, Павел КУДРЯВЦЕВ, Полина КАБАКОВА , Сергей ЗОЛОТОВ, Сергей КОЗЛОВСКИЙ, Сергей ЛЕТОВ, Станислав МАЛЯРЧУК, Татьяна ЗАМИРОВСКАЯ, Федор РОМАНЕНКО, Юрий БУДЬКО, Юрий ВЕРМЕНИЧ, Яков БАСИН, Яков СОЛОДКИЙ

музыкальный стиль
авангард, академическая музыка, африканская музыка, балканская музыка, блюз Дельты, блюз-рок, боп, гавайская музыка, госпел, индейская музыка, индийская музыка, кантри-блюз, кельтская музыка, кроссовер, кул, Латинский джаз, мэйнстрим, нео-клезмер, нуэво танго, ориентальная музыка, пидмонтский блюз, прог-рок, прогрессив, ритм-энд-блюз, рэггей, свинг, смус джаз, современный блюз, техасский блюз, традиционный джаз, третье течение, фанк, фламенко, фьюжн, хард-боп, цыганский джаз, чикагский блюз, эсид-джаз, этно-джаз

страна
Австралия, Австрия, Азербайджан, Алжир, Аргентина, Армения, Афганистан, Беларусь, Бельгия, Бенин, Болгария, Бразилия, Бурунди, Великобритания, Венгрия, Венесуэла, Вьетнам, Германия, Гонконг, Греция, Грузия, Дания, Доминиканская республика, Израиль, Индия, Индонезия, Иран, Ирландия, Испания, Италия, Кабо Верде, Казахстан, Камбоджа, Камерун, Канада, Китай, Колумбия, Корея, Коста-Рика, Куба, Латвия, Ливан, Литва, Люксембург, Македония, Малайзия, Мали, Марокко, Мексика, Молдова, Непал, Нигерия, Нидерланды, Никарагуа, Новая Зеландия, Норвегия, Пакистан, Панама, Перу, Польша, Португалия, Пуэрто-Рико, Россия, Румыния, Сенегал, Сербия, Сингапур, Словакия, Словения, США, Таиланд, Тайвань, Тунис, Туркменистан, Турция, Уганда, Украина, Уругвай, Финляндия, Франция, Чехия, Чили, Швейцария, Швеция, Эквадор, Эстония, ЮАР, Ямайка, Япония


статья
Главная > обзоры > издано в 2015г.
Steven McGill Project - Nia: Purpose
стиль: джаз
06.02.2016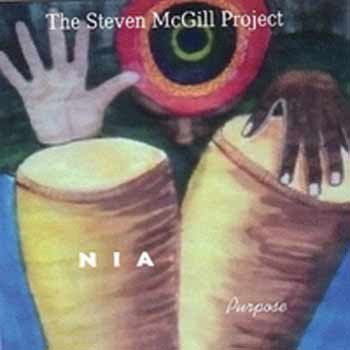 Стивен МакГилл – вибрафонист и перкуссионист, играющий на различных инструментах, но, в первую очередь, конгейро, а среди его любимых музыкантов значатся имена Монго Сантамарии, Пончо Санчеса и других выдающихся мастеров этого инструмента и афро-кубинского джаза, который составляет стержень его музыкальных интересов. За плечами МакГилла большой путь в музыке, вехами на котором были Вашингтон, Лондон, Париж и, наконец, Лос-Анджелес, где Стивен сегодня живет и уже более десяти лет руководит ансамблем Steven McGill Project. Состав этого коллектива довольно гибок, но основу его составляют музыканты, с которыми Стивен познакомился в совместной работе в одном из лос-анджелесских коллективов, WaterColours: гитарист Джефф Стетсон, пианист Стив Корилл, а также несколько позже пришедший в группу басист Гастон Рене. Именно они вместе с целым рядом других инструменталистов и вокалистов участвовали в записи четвертого по счету большого альбома группы - Nia: Purpose.

Программу альбома составили девять очень разных композиций. Открывает ее пьеса самого Стивена Alliot, где он сразу впечатляюще демонстрирует свое мастерство вибрафониста. Напротив, в версии известного джазового стандарта Green Dolphin Street его вибрафон как бы служит связующим звеном между двумя яркими соло Гас тона Рене, сменившего в этом треке свой основной инструмент на соло-гитару. При этом афро-кубинская ритмическая структура остается характерной для обоих этих композиций, как, впрочем, и для альбома в целом. В третьей композиции диска, Lost One, мы впервые слышим вокал. Сочинил эту вещь Симеон Карсон, вокалист, рэп которого звучит в ней под аккомпанемент саксофона Хавьера Вергары. Основой для композиции послужила ни больше, не меньше, как колтрейновская A Love Supreme, но место экстатического гимна божественной любви тут заняло весьма ядовитое обличение социальных язв общества. Получилось спорно, но интересно. Социальные мотивы звучат и в другой композиции с вокалом, сочиненной певицей Мерлиной Джитой Хосли, - Give a Little More Love. Эта вещь представлена на диске еще и в чисто инструментальном варианте, где на первый план выдвинута чисто роковая гитара Джеффа Стетсона. Список каверов альбома включает еще интерпретации таких известных хитов, как Autumn Leaves и Besame Mucho. На последней хотелось бы остановиться особо. Эту популярнейшую пьесу латинского репертуара очень часто играют, чрезмерно до карикатурности выпячивая стр-р-р-расть. Steven McGill Project счастливо избегает подобного, исполняя Besame Mucho в сдержанном и даже, скорее, печальном ключе, с отличными партиями фортепьяно (Стив Корилл), гитары (Джо Кальдерон) и вибрафона (Стивен МакГилл) – очень удачная и красивая версия! И, наконец, нельзя не упомянуть еще один кавер: See Line Woman от Нины Симон. Здесь афро-кубинская линия, можно сказать, уходит в тень, уступая место чисто африканской – с голосом Леди МакДи, флейтой Вергары и перкуссией лидера.

…В названии альбома Nia: Purpose два слова, но значат они одно и то же: «Цель», только название дано на двух языках – суахили и английском. Если считать, что Стивен и его коллеги задались целью не просто развлечь слушателя, но еще и показать широчайшие возможности афро-кубинского джаза, то цели своей они, безусловно, достигли.


© 2015 Morning Star Records
9 tks / 61 mins
(Steven McGill – vibe, perc, Steve Correll – p; Gaston Rene – b, g; Jeff Stetson, Joe Calderon – g; Gene Stone, Olises Naranjo, Forrest Robinson, Darryl Washington – dr; Javier Vergara – sax, fl; Simeon "Symbolic" Carson, Merlene "Jita" Holsey, Sandra "Lady McD" McDaniels, Amilia Castonguay – voc;)
Линк предоставил Steven McGill


Леонид Аускерн





авторы
Леонид АУСКЕРН
музыкальный стиль
Латинский джаз
страна
США
Расскажи друзьям:
Еще из раздела издано в 2015г.:
The Steven McGill Project
Who's The Steven McGill Project? On our latest CD the band included Gaston Rene on Bass Guitar, Steve Correll on piano (who played for the United States Air Force band when they were considered one of the best jazz bands in the country), Guitarist Joe Calderon and Jeff Stetson (Joe has played with Dianne Reeves and Billy Childs to mention a few. Jeff has worked with the Drifters) drummers Olises Naranjo and Forrest Robinson (Forrest is a Grammy award winner for his work on drums with India Aire), Reed players Javier Vergara, Gerald Monteros and Jim Carter (Javier is a member of the Grammy winning Poncho Sanchez Latin Band) vocalist Carla bagnerise, Ellen Cooper Merlene "Jita" Hosley Sandra "Lady McD McDaniels and myself Steven McGill on Vibes, Conga Drums and percussion.
How you guys all met and started this project? All the the guys in the band are friends thru another guy in the band if that makes any sense but it kind of goes like this I met Gerald Monteros at a jam session. He met Jeff Stetson who was friends with Gaston and Jim Carter, Gaston was friends with Javier. Steve was a friends with Gerald. Olises was a friend of Jeff Stetson also. The ladies I meet at a music class held by Val Ewell.
How would you describe your sound? I tried to center what we do around the sound of the drum. I'm a percussionist who is lucky enough to be surrounded by a great group of friends who were willing to help make the dream of this CD "Kujichagulia" a reality. I got the idea from a recording by Max Roach, the recording is called M'Boom. Max and a group of drummers playing only percussion instruments played some jazz compositions, it's a FANTASTIC recording!!! I don't think it was a large commercial success or even a critical success but I thought "take this sound and add a bass guitar to make it more accessible, bring in the piano which is also a percussion instrument and a new sound was born kind of, anyway that was the thought process. The strings and woodwinds were added later again because I wanted it to appeal to a larger group of people.
What are your music influences? My personal influences would be Olatunji, Mongo Santamaria, Willie Bobo, Tito Puente, Cal Tjader, Armando Peraza, Victor Feldman, Louie Ramirez, Sly and The Family Stone, Wes Montgomery and John Coltrane to mention the main ones.
Can you give us some insights, details about your upcoming new album? Any title, release date yet? We've started recording a new CD that we hope to finish by Dec 2012 or Jan 2013. This one should have more original compositions but we'll put our twist on some more standards also. One of those standards will be "A Love Supreme" by John Coltrane but again it will probably not sound much like what you would expect without giving away to many details. We have recorded five new tunes already and we hope to add four or five more for the new CD.
What has been the funniest moment you have been or took part while touring? We were playing in Venice Beach, Ca. at this club and a lady on roller skates and wearing a bikini decided she wanted to kiss Jeff while he was playing. Of course she knocked over half the mikes on stage trying to get to Jeff it was so funny.
Are there any more plans for the future we should be aware of? It would be nice to get a high quality video done for the new CD so will see if we can turn the talk into reality.
What's your method at the time of writing a song? I'm a percussionist so I normally start with the drums. I play a little piano so that's what I'll add next then the vibes once that's done and I have an idea about what it sounds like. Then I'll call Gaston and Steve (bass and piano) they'll lay down some tracks for me and we build from there.
Do you feel you are moving on the right direction? I think so we're being reviewed by "Vents Magazine" which is a big step!!! We also just got added to Pandora Radio which is a big step for any indie so go to Pandora type us in and give us a listen the CD is "Kujichagulia" by "The Steven McGill Project".